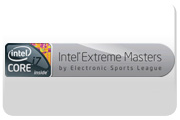 The ESL just announced a change for the Intel Extreme Masters European Championship. They increased the number of participants from 16 to 32 players online and the top 16 will play in the offline finals instead of the top 8. That change also includes that now 12 players will meet in the World Championships in Hannover instead of 8.
That also means that the prize money for the European Championship is increased to $5,200 for the online group stage. The offline prize money stays at $8,000, that makes a total of $13,200 for the European Championship.
16 players will be invited directly, while another 16 players can qualify over four qualification cups. The top four of each qualification cup will join the Intel Extreme Masters European Championship.
The first five invites for the European Championship will be announced tomorrow.
Source:
Official Announcement
Edited by Carmac at 17:49 CDT, 30 October 2009 - 17742 Hits