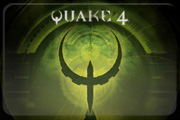 With Quake4 being released, the first tweaking already started. The Art Director of Fnatic, Arthur "
preatorian
" Dam, is working on a mod for Quake4. Its called Quake 4 Maximiser and in short Q4MAX. This mod will make the game more competitive.
The first beta version includes bright skins. This makes it easier to spot the opponent. With Quake4 having dark corners, it makes the players invisible when they hide. The bright skins is a start of this competitive mod, called Q4MAX. Preatorian is still looking for people who can help him in the following way:
- Skilled Coders (Doom Script)
- 3D artists (lightwave preferred, not nessecary)
- mappers
You can download the mod from the Fnatic website,
from this link
. If you want to help, than head over to
this forum thread
. The original news post of this mod, can be found
from here
.
Source: Club Fnatic.
Edited by sizah at 11:04 GMT, 21st Oct 2005 - 44839 Hits