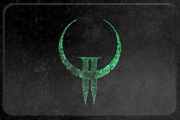 The Edge #2
is long time over, so are the
NDML #9
and
EDL #9
. There are only 2 games left to be played in the
EUROQ2L #15
. It sure looks like, the competitive part of the Quake 2scene is going to follow its typical schedule with
the summer break
. The process nearly as old as the game itself - as the spring season finishes, the playerbase shrinks immensely until the fall season launches its tournaments. Yes, that would be the case this year as well, if it weren't for

newash
and his never-ending ideas on how to revive the game we all love.
The new project of newash's -
TESLA
,
The Endless Supreme Ladder
is supposed to be the kind of tournament Quake 2 really needs - a never-ending tournament, which runs extremely smooth, as it's competition oriented. Just as TESLA's motto goes-
no scheduling, no deadlines, no walkovers, no screens, no demos, no pressure. Just pure games, pure competition
.
Yet, TESLA is not your ordinary Quake 2 ladder. It is somewhat divided into two parts, as you earn points of two kinds - normal (ranking) points, which determine your position in the ladder and Grand Prix points. GP points are calculated from different formula and are meant to determine the winner of the 10 week period of the tournament, called Grand Prix.
What's even more interesting, is the mappool. There is no hard set mappool of any sort! The map for each week of the competition is determined by the
scenaq2.pl
's pool results. That means, every participant can cast his/her vote and hopefully see their favourite map featured in the upcoming week. From what I've gathered, newash may include non-typical maps to the pool options as well, so the tournament may become testground for new duel maps, if that's the players' will.
Although TESLA tournament itself, and its master server is based in Poland, newash is proud to announce that the tournament is
open for anyone with a NoFake account
and the tournament's main language is, in fact,
english
.
If you want to know more about the tournament, or check the formulas of how the points are calculated, be sure to head to the rules section,
here
. Or visit TESLA's irc channel at #TESLA.q2 (@ quakenet). If you know everything you want to know, login onto your
scenaq2.pl
account and leave a comment with your nick,
here
.
Map voting
for the first week of the tournament starts on Sunday,
the 3rd of June
, with
the ladder beginning
on Friday,
8th of June
. Please do take note, however, that you can join the ladder
any moment you want
, even after its official start.
4161 Hits