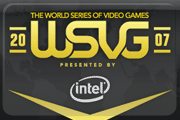 CBS and

WSVG
have again teamed up to bring gaming to television in 4 hour long episodes.
July 29th featuring the
Louisville, Kentucky Event
August 19th featuring the
Dallas, Texas Event
November 17th featuring the
Los Angeles, California Event
December 15th featuring the
Grand Finals in Jönköping, Sweden
.
"The World Series of Video Games have renewed their relationship with broadcaster CBS by inking a new deal that will put four hours of extensive footage from this year's WSVG major circuits into the homes of more than 100 million people across the United States alone.

'The World Series of Video Games, Presented by Intel believes that the excitement of video game competition belongs on broadcast network television, accessible to all,' said Matthew Ringel, president and commissioner of the World Series of Video Games. 'In CBS, we have the perfect partner— the undisputed leader in sports television, with unparalleled reach through its network and the CBS Interactive Audience Network online. We look forward to a great year together in advancing the potential for video game competition on television."
For more information visit

Amped eSports
Edited by Nicky at 01:19 CDT, 23 June 2007 - 5295 Hits